HCTA Backs Local Referendum
August 27, 2020
Hernando Classroom Teachers' Association Endorses Local Referendum
BROOKSVILLE, FL – In keeping with the professional association's commitment to advocate for fully funded neighborhood public schools, the representative leadership of HCTA voted to endorse the millage referendum which will appear on the November 3, 2020, ballot. As explained by Superintendent Stratton in a special meeting of worksite leaders, the referendum seeks to increase local operating revenues in order to retain teachers, increase mental health services and enhance school safety measures, provide needed technology for students and staff, and expand access to career and technical programs for students.
Acknowledging that Tallahassee has signaled the need for significant and drastic cuts to the state's budget in coming years, HCTA supports the referendum as a necessary step in ensuring that the district has the operational funds needed to continue providing high quality educational opportunities for Hernando's students.
Like so many other counties across the state, it is our hope that an informed majority will embrace this initiative, demonstrating a local commitment to strong public schools. The time to invest in Hernando's future is now.
Voters are encouraged to read more about the local referendum on the Hernando Schools website. To find out how you can help our efforts to support Hernando Schools, please email vlaborante@aol.com.
As we apprach the return of Hernando students to our schools in the weeks ahead, our message to the decision makers remains unchanged: The safety of our students and staff MUST come first!  Teachers are bracing for a year expected to look like no other. We need the full support of leaders and the larger community to ensure the safe reopening of our schools.
Sept 30th: Day of Solidarity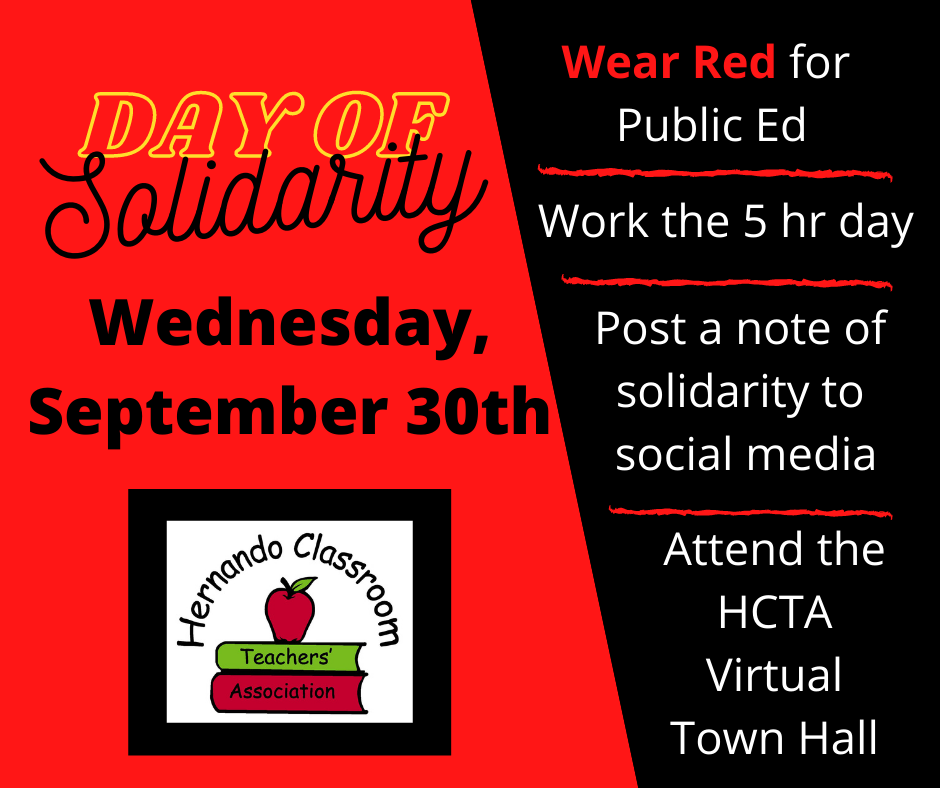 In her September New York Times column, AFT President Randi Weingarten says that going back to school has never looked like it does now. Weingarten explains that because of President Donald Trump's response to the coronavirus, which has been chaotic, contradictory and inept, and the lack of federal guidance and funding, we're seeing a patchwork of school reopening plans across the country.