Know your rights: #TeachTruth
We believe that students need to be taught our nation's full history. By learning the good and the bad, students can gain the knowledge they need to help create a better future as we continue to strive towards a more perfect union. 
This guide created in partnership with AFT and NEA makes clear what your rights are and provides answers to frequently asked questions about teaching history in the light of recent legislative attempts to censor the full truth of our nation's past.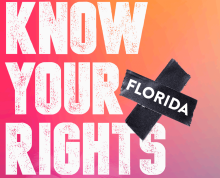 HB 1557 Guidance 
FEA will always stand for the civil rights of all Floridians, including LGBTQ+ students, staff and their families. Despite attempts from certain politicians to pit one group against another, we will not allow ourselves to be divided. Our strength is in our unity, and we will continue to focus on our core mission of making sure every child receives the education they deserve and need regardless of race, zip code, income, disability status, gender, or sexual orientation.
Read our latest guidance on HB 1557, also known as the Don't Say Gay bill here.