Patience—counseled by former Vice President Joe Biden all election week as Americans waited for votes to be counted—finally paid off Nov. 7, four days after Election Day, when Biden won in Pennsylvania and gained enough Electoral College votes to acquire a new title: president-elect. AFT President Randi Weingarten says the union's leaders and members "can't wait to get started" on the work ahead "with an administration that will embrace and fight for the values we hold dear."
AFT President Randi Weingarten's latest column outlines the urgency of using our voices—our votes—in this life-changing election, when we will make a choice "between President Donald Trump, who has trafficked in chaos, fear, lies and division, and former Vice President Joe Biden, who seeks to reverse Trump's failures on COVID-19 and the economy, and to unite and uplift the American people." Besides the four crises we face—a pandemic, an economic crisis, racism and a climate emergency—democracy itself is on the ballot, as Trump continues to cast doubt on the legitimacy of the election.
Sept 30th: Day of Solidarity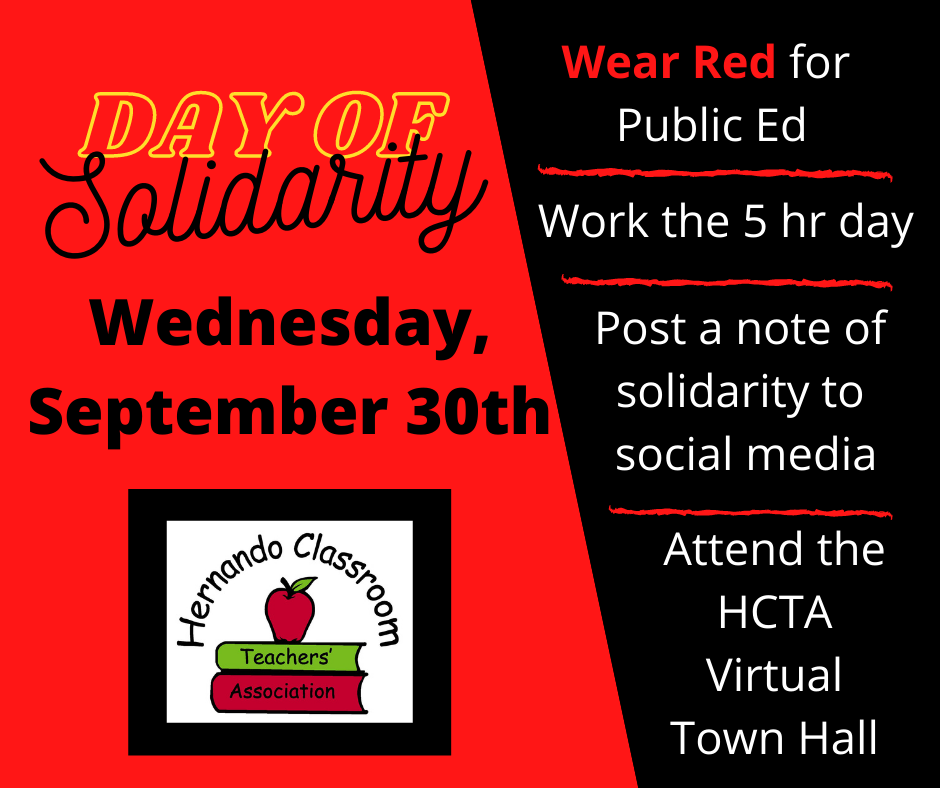 In her September New York Times column, AFT President Randi Weingarten says that going back to school has never looked like it does now. Weingarten explains that because of President Donald Trump's response to the coronavirus, which has been chaotic, contradictory and inept, and the lack of federal guidance and funding, we're seeing a patchwork of school reopening plans across the country.
August 28, 2020 - HCTA Bargaining Update
HCTA Bargaining Update – 8/28/2020
This week, HCTA and District bargaining teams reached tentative agreement on a comprehensive Schools Reopening MOU.
Chief among the provisions secured in the agreement are:
Access to cleaning and sanitizing supplies for classroom
Appropriate PPE for teachers commensurate with level of exposure  
Restriction on the use of ESE Co-teachers for coverage during times scheduled for delivery of services
Expansion of teacher authority and protections, including prohibition of recording without teacher's consent
Remote work plan in the event of school and/or district closure
Option of remote work in lieu of leave during quarantine resulting from on the job exposure
Protection for use of leaves associated with COVID-19
Adjustment to proration of athletic supplements in the event of season cancellation
The MOU requires that the evaluation committee (EMART) meet to review classroom observation protocols and recommend temporary adjustments to evaluation processes or criteria. Further, administrators will be trained on--and teachers will be informed of—any alterations to the process, criteria or instrument prior to the first evaluative classroom observation being conducted. Both brick-and-mortar and digital classroom assignments will be observed by administrators following the normal walkthrough/observation process in the physical setting. Evaluative observations for brick and mortar, digital home learning, and hybrid classes require the administrator's physical presence in the room.
Additionally, employees on the District's insurance plan will not pay out of pocket costs associated with testing and treatment of COVID-19 through December of 2020.
Though HCTA was unable to secure class size limits for traditional classroom electives (Art, Language, etc.), the District team offered assurance at the bargaining table that each site administrator has been tasked with creating school-specific plans to address safety measures for transition times, common areas, meal times, and classes with larger student numbers. It will be important that we work with admin to address concerns for areas which pose greater possibility of exposure to the virus. Please contact your HCTA worksite leader to ask for assistance in addressing these concerns as they arise.
The Reopening MOU, along with the other tentative agreements pertaining to the 2020-21 school year, can be viewed online at myHCTA.org. Remember that all other provisions of the HCTA master contract continue to apply, including planning time protection, duty-free lunch, and the 7.75 hour workday.
The parties will be reconvening in the days ahead to address the Teacher Salary Allocation. Please continue to look for updates and information from the HCTA bargaining team in September.
August 17, 2020 (BROOKSVILLE) -- As we begin this unprecedented journey embarking on the 2020-2021 school year, I just wanted to say welcome back and thank you to all Hernando County educators.  Welcome Back from a summer dominated by social distancing and the inability to travel and see loved ones. Thank you to all of you who have reached out to HCTA with your questions and concerns. HCTA has diligently tried to respond with information and compassion knowing this has been a very difficult and anxiety provoking summer.